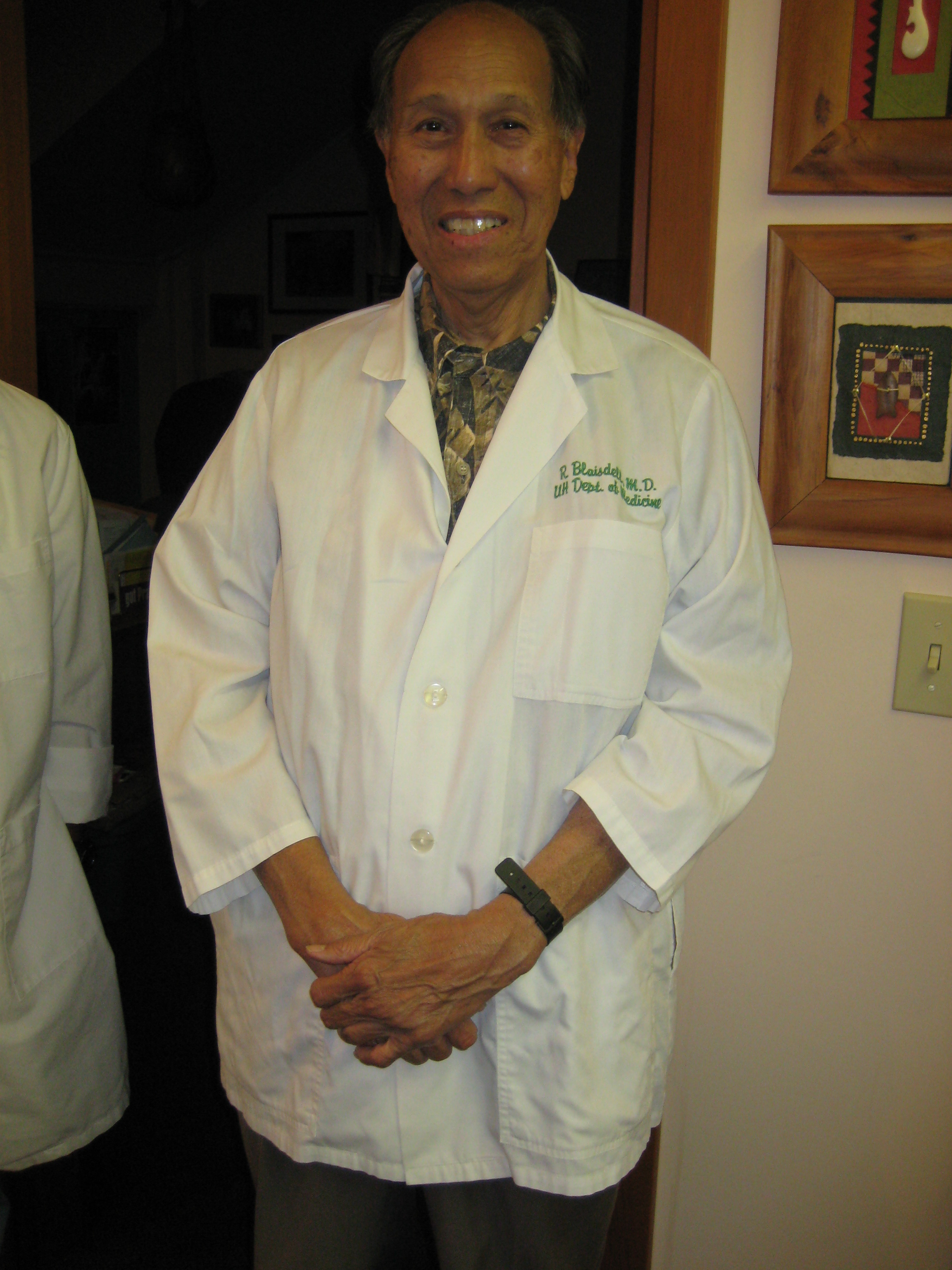 We have lost a great healer, teacher, professor, mentor and friend with the passing of Dr. Richard Kekuni Akana Blaisdell . 
We honor his contributions to raising the awareness of health among Kānaka Maoli. He returned to Hawai'i in the 1960s to help develop the medical school at the University of Hawai'i. He was a leader in gathering Native Hawaiian health data for the Commission on the Status of Native Hawaiians and then E Ola Mau, which then led to the passage of the Native Hawaiian Health Care Improvement Act in 1988 and the establishment of the five Native Hawaiian Health Care Systems, the Native Hawaiian Health Scholarship Program and Papa Ola Lōkahi. He was also instrumental in establishing Nā Pu'uwai and Ke Ola Mamo, developing the first Hawaiian diet program on Molokai, founding 'Ahahui o nā Kauka, establishing the Department of Native Hawaiian Health at the UH medical school, the Native Hawaiian IRB, and so much more. He mentored hundreds of physicians who have graduated from UH since 1975, as well as others in public health, epidemiology and other related fields. Along the way, he connected health disparities to the root causes of other social and economic disparities, and has been a clear and committed leader in the movement for parity, justice and Hawaiian independence.
Here is a tribute to Kekuni delivered May 15, 2015 at the Kihei Ceremony by Dr. Martina Leialoha Kamaka, President of 'Ahahui o nā Kauka.
Aloha mai kākou…mahalo Ke Akua, nā aumakua, nā kupuna here tonight, both seen and unseen.  Aloha to you the new kanaka maoli graduates of the John A. Burns School of Medicine, and to the family, friends and teachers who support you.

As the current president of the 'Ahahui o nā Kauka, the Association of Native Hawaiian Physicians, I am honored to share a bit with you about Dr. Richard Kekuni Blaisdell and why he is important to us as Native Hawaiian doctors and to the legacies that we will leave behind.

You have just heard the oli and experienced a glimpse of the love, gratitude and admiration that we, your faculty, mentors and future colleagues have for this man. It is important that you understand why. I suspect most of you have never met him but you have heard his name mentioned in the halls of JABSOM, the hospitals or by Native Hawaiian physicians you know. Although you may not have directly benefited from his teaching or experienced his passion for medicine or the issues that affect our people, you are ALL indirect beneficiaries of his vision, his teachings and his passions. You are all here partly as a result of his efforts. In fact, most of you were trained at one point or another by someone that Kekuni himself trained. Also, you will all work in our communities enlightened by the path that he has laid before you.

Kekuni Blaisdell is first and foremost, a proud Native Hawaiian man. He is a father, a grandfather, a scholar and an activist who became the first Professor and Chair of the Department of Medicine at the University of Hawaiʻi School of Medicine. But most importantly, he is a man who cares deeply for our people.

In 1985, he co-drafted the E Ola Mau Native Hawaiian Health Report, along with a few others, which documented for the first time, on a national level, the sorry state of Native Hawaiian health attributable to, if I may borrow from a previous president, the grim social, economic and landless political plight of our people. This report was done in preparation for the 1988 Native Hawaiian Health Care Improvement Act approved by the US congress which authorized the establishment of Papa Ola Lōkahi, the five Native Hawaiian Health Care Systems and recognized traditional Native Hawaiian healers. As an outgrowth of that work, he was instrumental in the founding of the ʻAhahui o nā Kauka.

I would like to show you our logo as it symbolizes what Kekuni means to us as kanaka maoli kauka and what our kuleana is. The water pouring out of the ʿumeke symbolizes not only healing but the sharing of knowledge. The hands receiving the water symbolizes our patients, our communities and of course, ourselves. Note the hands holding the ʿumeke. Those hands are Kekuni's hands. He was the model not only for our logo, but for an example, a model, of how to live our lives as physicians. He was a master of science, a teacher, a healer and an activist who passionately believed that the path to health for our people lay in regaining our sovereignty and connection to this sacred ʿāina.

I would like to end by sharing my personal stories with Kekuni. I remember hearing about Kekuni in the first days of medical school. I was terrified of him. He had a reputation for being a brilliant Native Hawaiian hematologist who was strict and expected nothing short of excellence. I was scared to take his class and I've joked with him about this over the years.

Happily I can report that yes, he expected excellence but he also had an incredible passion for medicine and aloha for his students. Who can forget the Five Rules of Chairman Blaisdell? These rules are pertinent not only for students, but also for all physicians as we continue our work and path of life-long learning:

The Patient comes first
Bring Science to the bedside
Doctor means teacher
Hawaii, Ka Paeʻāina, is a very special place
Have fun (with what you're doing)

I've also learned that he has a fun and rascal side. No one who attended the Pacific Region Indigenous Doctors Congress in 2008 will ever forget his T-shirt key note presentation!
My Dad, who is 90 years old, loves telling me stories about how he and Kekuni (along with another Hawaiian soldier), when on R&R during the Korean War, walked down the middle of the main street in the Giza, loudly singing Hawaiian songs and no one dared to stop them!

I've been blessed over the years to call Kekuni my teacher, my mentor and yes, my friend. I hope you all take the opportunity today to introduce yourselves and thank Kekuni for the legacy that he has left for you and for our people. He has made your work harder, and in some ways easier, by pointing out our kuleana to our people, but also showing that we can call on our kupuna, our communities, our culture and each other for help and support. Remember to follow his rules for life as a kauka, honor your patient, this place and it's cultures, continue your learning, teach, have fun in your work and I'll add a new one here, if you know you are on the right path, walk it, even if it's in the middle of the street, let your voice be heard and don't let anyone stop you!

On a final note, no one in my generation will forget the ways that Kekuni ends meetings, cameras and song and a charge. So, I have several requests….first, please stay to take a picture with Kekuni at the of this event and two, that you all join me in singing the last three line of the chorus from the mele, All Hawaii Stand Together.

Finally I will end with the charge that he has given many of us who have been taught, mentored, worked with, or just been associated with Kekuni, "Ho'ōla lāhui! Build the nation!"

'Onipa'a kākou, 'onipa'a kākou

A lanakila, na kini ē

E ola, e ola, e ola na kini ē
May Nālani and Mitch Kamakani and their families find comfort in knowing his legacy will live on.